Aspiring Entrepreneurs Marketing Guide part two
In this article, I'll cover the next set of resources many of you will need as aspiring entrepreneurs. I try to focus on the least expensive products. Some digital products are free and some are paid. Ultimately, you can choose which one suits your needs best. 
Welcome to part two of my marketing guide for aspiring entrepreneurs. So far, I've talked about affiliate marketing, what's involved, and how to get started with a free plan using Wealthy Affiliate. Remember, there are other affiliate programs out there, but this is the only one I found useful for me at the time I started because I didn't have extra money to invest. If you landed on this page before reading part one, then you can go back and read some of the key points here.
Some of the things mentioned in the first post are:
Key features of Wealthy Affiliate
Using a keyword research tool
Pricing plans
In this article, I'm going to talk about some helpful resources that an online marketer should utilize. Starting with themes, both free and paid versions.
What are WordPress Themes
If you decide to create an account with Wealthy Affiliate, they will help you get started with WordPress. WordPress is the most popular website platform for bloggers. The training lessons in Wealthy Affiliate will walk you through the set-up process and show you how to choose a free theme.
When you are starting for the first time, you'll want to keep your theme simple. A theme is a collection of templates used to define how your website will appear. You can change and manage your WordPress themes from your WordPress dashboard, and you will have options to choose from free themes or paid themes.
Free themes work just as well as paid themes. I've used several of them. I learned that I like the page builder themes the best, but I also like grid themes. Grid themes help to keep your blog roll organized.
What is a Page Builder?
Page builders have lots of customizable options. It's challenging to find themes that work well or is compatible with page builders so once you find the perfect theme that pairs well with a great page builder, then I'd recommend sticking with it and taking some time to get comfortable with it. The useful features these themes have in common are the drag and drop elements. 
Drag and drop elements are easier said than done. When I first started, I had a difficult time arranging the sizes of images and columns in my themes. Using blocks to organize your website takes a bit of time to get used to. Blocks are the techniques that drag and drop page builders use.
That's where paid versions become more useful; nonetheless, there are some free versions that you can use that are still very effective. One free theme that works well with page builders is called Page Builder Framework, which is a fast, minimalist, and modern theme. I don't want to go into too much detail about various definitions on all the topics; such as, what it means to have a minimal WordPress theme because I want to stay focused on resources for aspiring entrepreneurs. But, this is an excellent article about Minimal WordPress themes.
Free Versus Paid
Elementor is a WordPress page builder. They have a free version and a paid (Pro) version with different pricing plans for multiple professional use. The free version gives you access to the drag and drop page builder, plus 30 widgets. This is typically well suited for a beginner. I have experience with the free version and found some helpful YouTube videos to walk me through the learning curve. I never moved on to the paid version however.
Thrive Themes has an awesome suite available for marketers. This is a paid membership account but relatively inexpensive in respect to their added value. I'll tell you how I found them in a moment.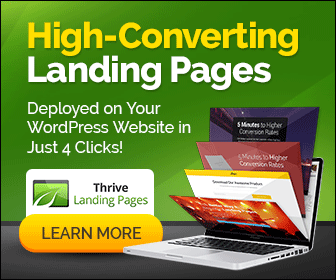 Landing Pages and Clickfunnels
I was on the verge of purchasing a Click Funnels account while in search of the best landing pages. I was still very new and wasn't sure which direction I was going. All the experts were advising to build a really good landing page so that's when I began my search. 
If you've ever looked into Clickfunnels, you know how expensive it truly is. It is roughly $300.00 per month after your 14-day free trial. Sometimes you can find affiliates promoting Clickfunnels for less, but the lesser price does not include all the features. I didn't quite have the confidence to invest in that platform as one of my resource tools, so as I continued my search, I found Thrive Themes. 
I was instantly attracted to their tutorials. Thrive University has the best tutorials that explain how to use their products. You can create a free University account below and see some videos for yourself. 
Once you click the link above, click on the text that reads "not a member?". This will take you to a page that asked for your first name, and email address. Then you can set up a password. The form is granting access to their newsletter and to all Thrive University courses. This is free access and provides a wealth of information. 
I use many of their products because the integration of different plugins and widgets are extraordinary. I don't mind promoting them as an affiliate because I'm a customer first, but as I mentioned earlier, this is a paid membership. Fortunately, $19 per month saved me nearly $3,000 per year if I had purchased a Clickfunnel membership.
Why Landing Pages?
Landing pages are one page websites. They usually are not connected to your website, meaning, they stand independent from your website. In many cases, you will link to a landing page from your blog post. 
Landing pages are informational about a product or service that you are promoting, and they have call-to-action (CTA) buttons on them.
These pages are more effective because there are less distractions for your readers (our attention spans are very low today).
In the next series, I will go into more depth on creating landing pages from scratch, and will also cover how to build a clickfunnel.  Combine this knowledge with what you learn at Wealthy Affiliate to gain a competitive advantage in this growing industry.
"​Strive for progress, not perfection"​