How to Improve Your Resume with Grammarly
How to improve your resume? If you are in pursuit of a new job or career change, then you are probably submitting your resume to online job boards. Did you know that organizations often receive hundreds of applications for every vacant position listed? Have you ever queried how they filter through piles and piles of resumes? 
Listen, due to the advances in technology, AI has entered every aspect of our lives, including the hiring process. That's right! Artificial Intelligence dramatically impacts how your resume is sorted and selected to move to the next phase of the process. It's called an applicant tracking system. 
What is Artificial Intelligence?
In this article, we will take a look at how artificial intelligence filters your resume. I'll give you three tips that you can use today to increase your chances of getting an interview. Lastly, I'll discuss how you can make a great first impression with my #1 recommendation on how to polish your resume. Expanding your vocabulary and setting your tone can help highlight your written communication skills by using the world's best editorial tool.
How Does an ATS Affect Your Resume?
Learn more about an applicant tracking system (ATS) on 5 Crucial Resume Writing Tips to Help You Get the Interview, an article published by Burnette on LinkedIn, the world's professional networking platform. The article describes how to get past the applicant tracking system (web bots) and gives examples of how to use appealing words to showcase your achievements. 
Web bots crawl your resume with intent to match your skills with the desired qualifications of the employer. Therefore, it's a good idea to use keywords, skills, and synonyms to make your resume attractive and to get past the bot's antennas. 
Top 3 Ways to Increase the Visibility and Quality of Your Resume
Listed here are the top 3 ways to increase the visibility of your resume.
Identify and use keywords in your resume.

Match your skills and competencies with the desired abilities of the employer. 

Use synonyms and action words while creating an error-free resume.
After reading the top three ways to increase the visibility of your resume, I'll share my #1 recommendation on how to achieve the best results when creating your resume. You want your resume to showcase your professional abilities effectively with proper language and confident tonality. 
How to Identify Keywords to Increase Visibility of Your Resume
Tip#1: Keywords
Tip #1: Recognizing keywords should be a priority when you are composing your resume. Design a resume that fits each type of job you are seeking, then incorporate description keywords throughout your resume.
Here is an example of how to recognize keywords. In this example, the description uses the word "negotiate" multiple times, which indicates that it is a valid word choice to use in your resume. If you have experience negotiating contracts, proposals, or payment deals, you would likely prepare a resume that uses this language.

Sure it seems a bit time-consuming to recreate a resume for each job post that you are applying, so here's an idea. For instance, if you are looking for an administrative position, create a resume that incorporates common skill attributes for this line of work. As a result, you might have a resume geared for admin, marketing, management, or sales. 
Also, use vocabulary that expresses achievements rather than duties or responsibilities. 
Tip #2: Skills and Competencies
Tip #2: Match your skills and competencies with what the employer is seeking. Compile a list of five things the employer is seeking, then list five qualifications you have that match the description. Once you've identified which talents match, use these talents to make your resume relevant. 
Create a list of five bullet points for each of these three questions and use this to analyze your job description: 
What are the desired competencies?

Are any mentioned more than once?

Which skills do you possess?
The bots will acknowledge that you are a possible fit for the job and send you to the next phase of the hiring process. 
Tip #3: Error-free Grammar
Tip #3: Create an error-free resume while choosing synonyms and action words to display your achievements from your past experiences. Most employers require strong communication skills, and your resume is the first impression of how well you can relate through written work.
Gone are the days of using objectives as an introductory in your resume. Today, it's best to use a profile summary of your attributes. Try starting with proof-reading software such as Grammarly!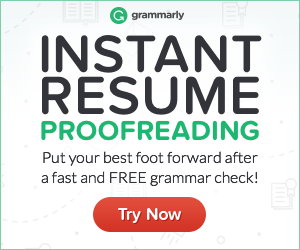 Why Using an Editing Tool Helps Ramp-up Your Resume!
The benefits of using Grammarly to ramp-up your resume could mean the difference between unemployment and your next paycheck. Why?
Grammarly is more than just a spell checker; they have several features that make this AI software excel in their league. Let us refer back to tip #3: an error-free resume. 
Eliminate errors in your resume by using Grammarly to check for spelling and grammatical blunders. Besides checking for spelling mistakes, Grammarly scores your overall performance in areas of word count, readability, and vocabulary. 
How Grammarly Helps You Improve Your Resume
Did you know Grammarly's advanced software allows you to set goals for the overall direction of your writing? Setting the tone of your profile summary and cover letter is a great way to help you communicate your intent to your reader?  
How to improve your resume with tone detection?
Tone detection is a new feature in Grammarly. Now, you can help the hiring manager interpret confidence in your profile summary, and throughout your resume.
What's Next? Start Eliminating Resume Errors.
You are a job hunter, so you probably lack funds to hire a professional resume writer. We've identified the problem of getting past the pesky applicant tracking system and covered three ways to increase the visibility of your resume. 
Also, we've introduced an editing software tool that will help you compete against the web bots in the ATS with proper language, tone, and word choice. The next step is yours. I invite you to take advantage of the free version of Grammarly to explore its benefits. Explore the different ways of how to improve your resume effectively and increase the chances of getting that interview.
Don't Risk It. Try the Free Version.
Get critical grammar and spelling checks, and check for conciseness for $0. Find out how to improve your resume with ease!